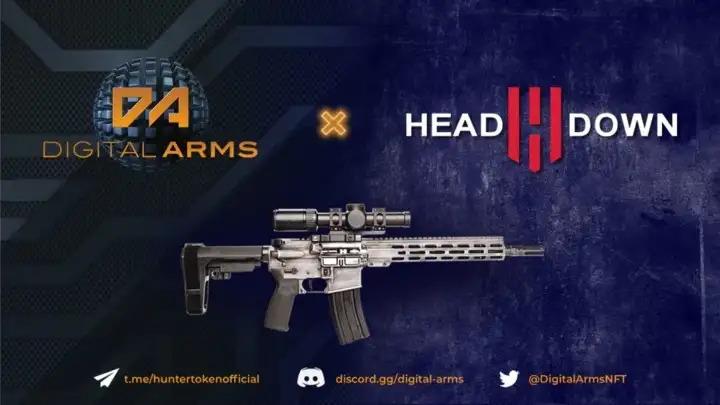 Lawrenceburg, TN — Head Down Firearms announces it has entered into a long-term exclusive licensing agreement with Digital Arms to design, develop and market Head Down branded Non-Fungible Tokens ("NFTs").
Digital Arms is bringing an NFT trading platform to the firearm, gaming and hunting marketplaces. For the first time ever, firearm enthusiasts and collectors will be able to purchase branded firearm and firearm accessories NFTs and use them in games and other digital platforms.
Ben Clarke, CMO — Digital Arms said, "Head Down Firearms manufactures some of the most incredibly finished AR15 style rifles you will see on the market, and we are excited to partner with them to bring Digital Arms enthusiasts the latest in NFT themed rifles and AR pistols".
Adam W, Managing Partner — Head Down Firearms, said "Bringing Head Down Firearms into the new age of NFT's is an exciting time for our brand. There is a huge potential for growth within this space and we are proud to have our brand being represented by Digital Arms. We are looking forward to our customers being able to use a digital version of their favorite Head Down rifle within Metaverse gaming"
Firearm NFTs, however, take on a completely new perspective to the traditional gaming industry. Within the Digital Arms platform, users will be the sole verified owner of a digital licensed firearm. Investors and collectors will not want to miss out on the opportunity to secure a limited edition NFT designed from computer-aided-design (CAD). This is a chance to own a piece of history that has the potential to increase exponentially in value over time.
About Head Down Firearms
Head Down Firearms is a U.S. based manufacturer of small arms based in Lawrenceburg Tennessee, that specializes in extremely high-quality AR-15-pattern semi-automatic rifles and pistols. Head Down Firearms manufactures each lower receiver in house using better than mil-spec dimensions. All parts not made in house are subject to two levels of inspection to ensure every firearm leaves our building perfect. All Head Down rifles are guaranteed to shoot sub-MOA backed with a lifetime warranty. https://hdfirearms.com/
About Digital Arms
Digital Arms will be the market leader developing an ecosystem for today's firearm, gaming and hunting enthusiasts, which allows them to purchase and own digital firearms and related accessories. Our mission is to build and release firearm NFTs that will have unique capabilities from adding multiple accessories such as optical sights, magazines, grips, suppressors, and be reskinned in different colors. Digital Arms NFTs will be scarce, collectible, and interoperable within gaming platforms.
You can visit the company website at https://www.hunter-token.com/, and keep up with updates at their Twitter account https://twitter.com/DigitalArmsNFT. Join the Digital Arms movement over at their Discord: https://discord.gg/digital-arms
For all media enquiries, contact Ben Clarke, CMO
For all licensing and partnership enquiries, contact Nathan Dudney, VP Business Relations