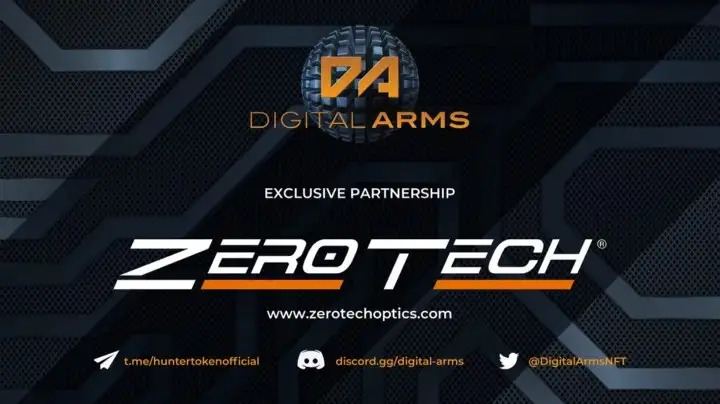 Sydney, AUS — ZeroTech International PTY LTD announces it has entered into a long-term exclusive licensing agreement with Digital Arms to design, develop and market ZeroTech branded non-fungible tokens (NFTs).
Digital Arms has built an NFT trading platform for firearm, gaming and hunting enthusiasts. This is the first time those with a passion for the industry will be able to purchase branded firearm and firearm accessories as NFTs, for use in games and other digital platforms. ZeroTech Optics is fast becoming the optic of choice among hunters and shooters worldwide.
The partnership means that users will be able to digitally own a limited-edition riflescope NFT, which will be an exact replica of the award-winning products designed by Zerotech Optics. As one of the most recognized sports optics brands on the planet, ZeroTech delivers "a new generation of riflescopes" complete with cutting-edge precision technology.
Chris Watkins, Digital Arms Founder, said "ZeroTech is one of the fastest growing optics brands in the world and we are proud to introduce them into our Digital Arms NFT ecosystem. Optics are an essential firearm accessory, and bringing ZeroTech on board means we can offer an extensive range of limited-edition riflescope digital collectibles (NFTs) to hunting and gaming enthusiasts, as well as digital currency collectors."
Aaron Millard, ZeroTech International Director, said "This is a very exciting time for global arms, gaming and NFT investors around the world! Digital Arms is moving forward with innovative and exciting technologies that will digitize some of the most highly renowned firearm and weapon accessory brands in the world! And on behalf of ZeroTech International, we are extremely proud to partner with Digital Arms as their optics partner and I know there is an extremely exciting future for Digital Arms, ZeroTech and the other industry partners that are supporting Digital Arms in this exciting endeavor. Digital Arms has set the new standard for gaming, NFTs and cryptocurrency!"
Firearm accessory NFTs bring a new perspective to the traditional hunting industry. The Digital Arms platform provides a place for investors and collectors to purchase, collect and sell digital licensed firearm accessories. They will become the sole verified owner of an NFT that has the potential to increase in value over time. All digital firearms and firearm accessories are created using computer-aided design (CAD) for a highly accurate interpretation of the ZeroTech riflescopes used in the real world.
Gamers, hunters and sport shooters with a history of using firearm attachments in various gaming platforms, while hunting and out on the range will now be able to join the cryptocurrency movement, by owning a digital token in a space they're passionate about. Non-fungible tokens are infiltrating many aspects of our lives as their usage capabilities and earning potential expands. The tokens available to purchase through the Digital Arms platform (or "metaverse") can be applied to gaming, trading, wearables, accessorizing, collecting, and investing.
# # #
About ZeroTech Optics
ZeroTech was founded in Australia in 2018, with the aim to bring to the market riflescopes and reticles that satisfied shooting requirements and could hold up against the tough climate. Using their extensive experience with optics manufacturing, it was time to do what hadn't been done before. The ZeroTech team had over 5 decades' experience in the optics industry, had imported tens of thousands of riflescopes, as well as designed and developed a range of riflescopes and reticles. Products are tailored to the Australian and international market, and made to perform in all backcountry conditions. www.zerotechoptics.com
About Digital Arms
Digital Arms will be the market leader developing an ecosystem that enables the purchasing and collecting of digital firearms and firearm accessories. They partner with reputable global firearm manufacturers to build and release firearm NFTs with unique capabilities, that can be used in gaming and other digital platforms. Digital Arms NFTs will be scarce, collectible, and interoperable within gaming platforms. For more information about Digital Arms, read the company whitepaper at https://docsend.com/view/gcfdaiymvyqcakkh.
You can visit the company website at https://www.hunter-token.com/, and keep up with updates at their Twitter account https://twitter.com/DigitalArmsNFT. Join the Digital Arms movement over at their Discord: https://discord.gg/digital-arms.
For all media enquiries, contact Ben Clarke, CMO
For all licensing and partnership enquiries, contact Nathan Dudney, VP Business Relations