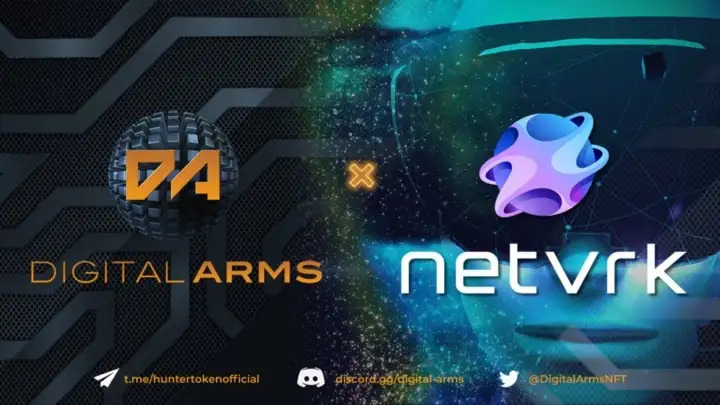 Digital Arms is excited to announce their partnership with Netvrk! Netvrk is a metaverse built on the blockchain that allows users to monetize their creations via NFTs and Virtual Land. Together, Digital Arms and Netvrk will be expanding the reach and offerings of a wide range of NFTs.
Digital Arms is bringing an NFT trading platform to the firearm, gaming and hunting marketplaces. For the first time ever, firearm enthusiasts and collectors will be able to purchase branded firearm and firearm accessories NFTs and use them in games and other digital platforms.
Ben Clarke, CMO — Digital Arms: "Netvrk is a leader in Metaverse creation, they have partnered with solid innovative projects to deliver what I would consider the future leader in gaming and online virtual experiences".
Chief Executive Office of Netvrk, Daniel Kennedy — "Digital Arms is addressing the burgeoning sector of firearms and gaming enthusiasts in the metaverse. We're excited to work with such an innovative team to bring this concept to the greater metaverse."
Firearm NFTs, however, take on a completely new perspective to the traditional gaming industry. Within the Digital Arms platform, users will be the sole verified owner of a digital licensed firearm. Digital Arms will have a virtual headquarters (Digital Armory) inside the Netvrk Metaverse where users can interact and socialize at, along with Shooting Ranges, and customizable Gun Rooms for collectors to display their arms.
About Netvrk
Netvrk is a metaverse, with powerful creation tools and infrastructure to easily create, share, experience, and monetize creations. With a focus on gaming, education, and virtual workplaces, built around ownership of virtual land and assets.
Website | Twitter | Telegram | Telegram Announcement | Medium $NTVRK
About Digital Arms
Digital Arms will be the market leader developing an ecosystem for today's firearm, gaming and hunting enthusiasts, which allows them to purchase and own digital firearms and related accessories. Our mission is to build and release firearm NFTs that will have unique capabilities from adding multiple accessories such as optical sights, magazines, grips, suppressors, and be reskinned in different colors. Digital Arms NFTs will be scarce, collectible, and interoperable within gaming platforms.
Website | Twitter | Medium | Discord | Telegram $HNTR
For all media enquiries, contact Ben Clarke, CMO
For all licensing and partnership enquiries, contact Nathan Dudney, VP Business Relations