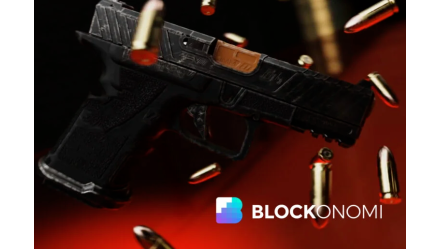 Digital Arm's Marketplace is the hub for firearm enthusiasts and collectors.
Launched in 2020, Digital Arms is developing a very unique platform that opens a door for firearm enthusiasts, RPG first sight shooting lovers and crypto fans to a bold new world of NFT gaming.
With Digital Arms and its $HNTR token, users are empowered to explore, create, purchase and trade their favorite collections of digital firearms and accessories, which are exclusively provided by global brands.
What is Digital Arms?
Unlike in the real world, where arms trading is prohibited in many countries and territories, in Digital Arms, every gun running dream can become real.
Players can own, design, reskin, and upgrade any kind of gun that is available. Moreover, Digital Arms' vision is to enable the most vivid assets thanks to the adoption of virtual reality technology.
Long story short, Digital Arms provides an interesting experience for firearms NFT trading like nowhere else can.
How Does Digital Arms Work?
Digital Arms builds a bridge to the cosmos of IP firearms and components, which promotes an interactive NFT marketplace with enhanced gaming interoperability.
Simultaneously, it aims to bring gaming and guild platforms together with metaverse immersion.
Up to now, Digital Arms has successfully signed exclusive deals for IP licensing with 8 reputable firearms brands, as well as established partnerships with a number of top names.
One of these names is Netvrk which is in the middle of creating a battle royal sandbox for devs, not to mention a list of other hot companies in numerous sectors, from finance, to blockchain and NFTs – such as Sheesha Finance, Blockchain Australia, Barrett, Primary Arms and more.
With all that effort, there is no doubt about Digital Arms' potential to open up an unlimited blockchain world for both passionate players and investors.
In specific, Digital Arms will connect all brand firearms fans, FPS gamers, NFT traders in one same place where they can utilize the platform's power and their creativity to build and exchange their collectible firearms with others.
Opening Up Doors
With the $HNTR utility token, users are granted access to the Digital Arms' NFT Marketplace, where tons of different exclusive firearm brands and models are on displayed and available for trade.
Other exciting activities for Digital Arms' members that can be carried on the platform include buying new issued digital firearms and accessories, buying digital skins, paying to reskin or equip and upgrade your digital guns.
Users are also able to buy and sell NFTs, as well as tap into hundreds of other gamification tools and features.
The Utility Token: $HNTR
$HNTR is the utility token of Digital Arms, the sole currency that fuels all functionalities of the entire network. It also offers holders some interesting options.
The token gives users the access to the NFT marketplace, and also to join a yield generation platform to earn staking rewards. $HNTR becomes the energy to create their unique NFT firepower collection for sales and trade.
Over time, the total supply of the $HNTR tokens will be released and reduced through the burning system. This deflationary system will burn 0.5% of every transaction on the platform.
With a built-in deflationary mechanism, a solid balance will be created, and system development will be constant. Meanwhile, another 0.25% of transactions will be kept in a pool, which will later be used for rewards.
Play-to-Earn
Just like most other GameFi platforms, Digital Arms offers players various ways to take part in with the community and gain profit from NFT and token holdings.
In addition to NFTs trading, the platform allows collectors to earn bonus APY% in the $HNTR token by staking their NFTs.
Digital Arms also fosters gaming interoperability thanks to their software development kit (SDK) that levels up the interoperability.
At the same time, it provides an attractive incentivization mechanism to encourage game developers to embed Digital Arms' NFTs into their games and applications.
Digital Arms Features
Digital Arms is packing some great features that gamers and NFT collectors will enjoy. Let's take a look.
Forging
Users can purchase, upgrade and trade digital armories, skins, accessories. Also, Digital Firearms users can forge those items in order to personalize and make their own new designs.
The more unique they are, the higher chance they can become more valuable NFTs. Of course, the popularity of the platform will also help.
Breeding
Another function that is unique to the digital world is breeding, which means players can choose to use NFT staking to generate new kinds of NFTs.
Unique identifier
Digital Arms assigns a unique identifier to each of their NFT that enacts the readability and integration by external platforms.
In particular, other video games or metaverses can read Digital Arms' NFTs data and utilize it to recreate the gun inside their cyber environment.
This eliminates any limitation on where the NFTs can be used, and produces a boundless universe for players to discover.
In short, Digital Arms will allow the entire Metaverse to use these NFTs.
Exclusive offers
Digital Arms is one of the pioneers in NFT firearms. Furthermore, it has a huge potential to beat other competitors for being the only one to have licensing agreements for the firearm marketplace.
At this point, no rivals have been able to keep up with Digital Arms.
Digital Arms holds the full IP rights for either gaming or NFT markets, giving them the power to effectively mitigate platforms without officially secured IP rights to access to their firearms and accessories collection.
It is unlikely that any other platforms will sign exclusive contracts to unlock the accessibility to comprehensive firearm NFTs and top trending games like Digital Arms has done.
With these agreements in place, Digital Arms is preserving a leading position for the platform in the virtual firearms market for perhaps quite a long time.
Metaverse
With the rise in Metaverse development, the kind of IP that Digital Arms is bringing to the table may be a massive win for the company, and anyone who jumps into the NFT firearms game.
The Metaverse opens up the potential for open-source gaming development, and the system that Digital Arms has created should help devs to add in game items that up the value of the game, and the NFTs.
Although the current market for firearm NFT is still growing, the ongoing development of the Metaverse should act as a help for both Digital Arms, and firearms NFT holders.
The Go-To Platform for NFT Firearms
All in all, Digital Arms is undoubtedly a great marketplace for gun enthusiasts who want to get a brand-new on-chain trading experience in an immense virtual universe with numerous NFT-based activities.
Creating, designing and selling one-in-a-million pistols NFT will surely bring gun lovers a satisfaction that can never be matched in the real world. With the breeding feature that Digital Arms created, new and unique NFTs are all but a certainty.