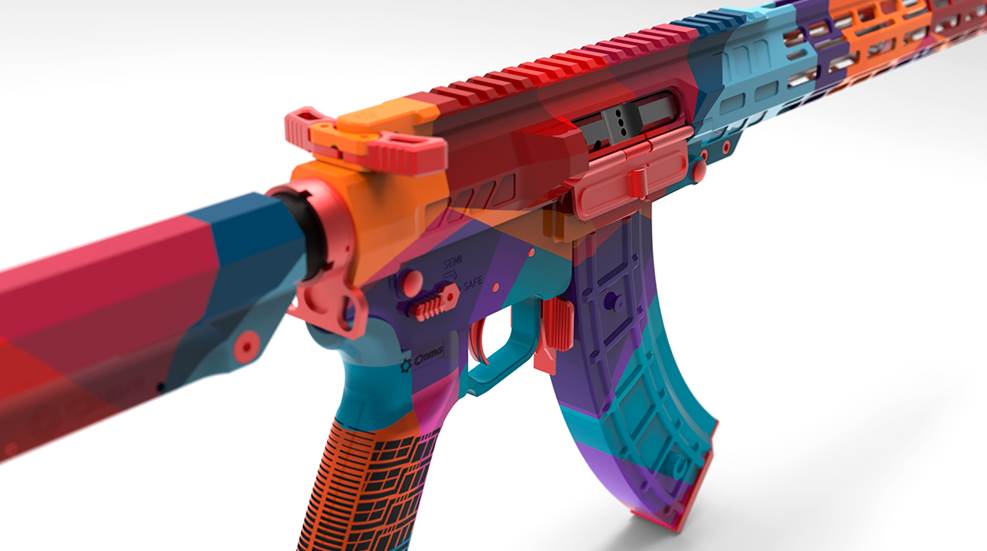 Non-fungible tokens—online representations of physical objects—are all the rage, and your favorite firearm might just become one.
While owning the physical item is certainly more enjoyable, for a host of reasons not necessarily limited to budgetary considerations, sometimes the digital version is more achievable.
Non-fungible tokens—NFTs—are digital assets with ownership verified by the same, decentralized blockchain technology used by today's cryptocurrencies. They are not new, but the staggering amount of money paid for some recently has caught the attention of artists, investors and even some in the firearm industry.
To put the economics in perspective, consider last October's sale of history's first tweet, which came from Twitter's CEO in 2006. It sold for $2.9 million. In 2021 Christie's auctioned a variety of NFTs, with the top seller netting $69.3 million.
That's serious cash when you can't even hold an NFT because, well, it's digital. Even if printed and hung on the wall, it's just a two-dimensional representation of the actual NFT. You don't necessarily carry the copyright, either, so you can't (as of yet) prevent others from digitally duplicating it.
The Mona Lisa helps illustrate the NFT concept. There are dozens of copies, counterfeits and photographs of Leonard da Vinci's masterpiece, but only one is genuine. It's in the Louvre, priceless; all the other knock-offs are worth millions less. A digital original, documented by blockchain, makes it unique and verifiable, hence potentially valuable.
The Market
A number of well-known gunmakers are already working with a company named Digital Arms/Hunter Token to offer NFTs. When asked precisely what the company is doing, Chief Marketing Officer Ben Clarke explained in an e-mail, "Digital Arms NFTs will be pieces of art, built from computer-aided designs (CAD) to create exact digital replicas of world-famous firearms. Alongside this is the Digital Armory, a blockchain-based platform where users can trade and modify their NFTs to further enhance their rarity, and therefore value."
He added that, "The NFTs sold could be used in many ways, such as being able to carry firearms over to different gaming platforms and metaverse platforms, your unique verification to score big discounts on partnered e-commerce stores, access to exclusive events or range days, the list goes on."
The primary way to purchase will be Hunter Tokens ($HNTRs) from Digital Arms, but accommodations are in the works to use other forms of payment. As for who's on board with his platform so far, he said his "…company has secured partnerships with key industry leaders such as Barrett Firearms, Primary Arms, Head Down Firearms, ZeroTech Optics, ZEV Technologies and CMMG with several brands yet to be announced in Q1."
Key Vendors
Barrett NFTs will be among the first offered. Early this year, Sam Shallenberger, Barrett president, said, "We are looking forward to offering our brand enthusiasts as well as today's gamers and collectors the opportunity to own exact digital replicas of a variety of Barrett firearms, including the one-of-a-kind Barrett Model 82A1, which has served dedicated sportsmen and proven to improve our military readiness in every rugged environment around the globe."
CMMG will be there, too. "[W]e have recently partnered with Digital Arms to produce licensed NFTs in the Web3 space," said CMMG's Calder Alford. "Our first of which being the Mk47. We understand that Web3 is in its infancy, but we also recognize the potential of offering our licensed products to fans all over the world."
Firearms don't hold an exclusive. "We are excited to be part of the NFT market and partner with Digital Arms," explained Özge Cumberland, senior vice president of Sales, Marketing and Business Development for Primary Arms. "We are honored to be the first accessory manufacturer from the firearms industry in the NFT world and are delighted to bring this experience to life with the Digital Arms project."
Still Studying
Other gun manufactures are still exploring the digital marketplace. "There are so many new mediums in today's ever-changing digital world and things are evolving rapidly," said Tom Taylor, chief marketing officer and executive vice president of Commercial Sales for SIG Sauer. "NFT is a rapidly growing platform as a new way for consumers, fans or enthusiasts to be involved with their favorite entity, people or brand. SIG Sauer is actively exploring this new category as another way to engage people that love our brand."
"As discussions of digital trends continue to rise, at Glock, we understand the importance of staying informed with these current trends and are always looking at ways to remain involved," Carlos Guevara, Glock vice president and general counsel, said.
Mossberg was reserved when asked if it was considering NFTs. The company is watching developments closely, but is not yet convinced NFTs are the right fit for a family-owned firm serving decades of loyal enthusiasts.