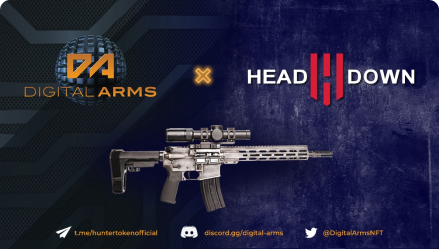 Digital Arms, a unique platform for owning digital firearm NFTs, is partnering with Metalands, a blockchain P2E first person shooter. The collaboration is enabling the world's first gaming integration of IP licensed NFT firearms. Laying the pathway for the new era of Interoperable NFT assets and metaverse gaming.
Digital Arms – Explainer Video
Owning one of the many Barrett NFT rifles will allow users to gain Early Access to Metaland's exclusive tournament game play along with earning and staking abilities on the Digital Arms marketplace. The Barrett rifle selection are a .50 cal rifle that, in real life, is designed primarily as an anti-vehicle weapon. Early Access offers a ticket to participate in Metaland tournaments with large prize pools supported by Digital Arms.
Digital Arms is building a unique NFT marketplace for gun fans and gamers, holding exclusive IP rights to worldwide leading firearm brands. The NFTs represent popular firearms, which can be used to connect the equipment across all blockchain games. Metalands is one of many such integrations being announced. The partnerships give exclusive access to Digital Arms users and token holders.
Barrett is one of several Digital Arms firearm manufacturer partners, conceding the use of their most famous weapon in-game. Digital Arms specializes in IP rights licenses, allowing other games to tap into their network to bring the Digital Arms version of popular guns into their games.
Metalands is an open world real-time strategy shooter game based on first person perspective. Players collect items and skins that they can then sell on the in-game marketplaces. This offers a competitive reward scheme for the best players who climb the ranks. The Metalands public release demo (PVE) is currently available for windows. Multiplayer is anticipated to be available to the public by Q4 2022 which will offer a variety of dynamic maps, which are also represented as NFTs.
"We're excited to be partnering with Metalands to bring gamers the most sought after sniper rifle, the Barrett .50, one of the most exclusive and famous long range rifles in gaming" said Chris Watkins, CEO of Digital Arms. "Barrett is one of our exclusive IP partners. By creating an NFT-based interoperable collection, other games can easily add real guns that would normally require obtaining dedicated licenses."
About Digital Arms
Digital Arms hosts exclusive IP rights to the world's leading firearm brands. IEO is set for mid-October 2022, Digital Arms has created a large, interactive NFT marketplace where users can explore, purchase, and trade digital firearms and accessories as NFTs. This will help facilitate NFT firearm gaming interoperability, and build new use cases for the metaverse, gaming and guild platforms. Digital Arms appeals to firearm enthusiasts and the shooter gaming community.You can visit the company website at , and keep up with updates at their Twitter account. Join the Digital Arms movement over at their Discord.
Digital arms| Twitter | Facebook | Medium
About Metalands
Metalands demo "free to play to earn" FPS gameplay launched early August with unique maps followed by PVP 5v5 competitive games later in the fourth quarter. Each map, item or player appearance can be customized in workshops, giving maximum creativity to its players.
Metalands | Twitter | Telegram | Discord | Reddit | Medium
Contacts
CMO
Ben Clarke
bclarke@digital-arms.com
BY LANA - SEPTEMBER 6, 2022 - [Source Link]