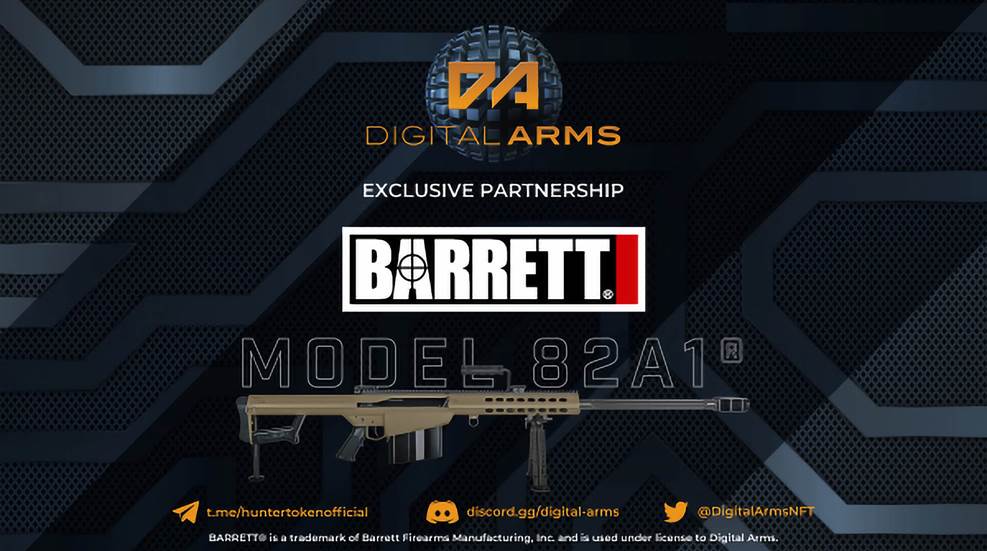 Digital Arms has entered into a long-term agreement with Barrett Firearms Manufacturing to develop and market Barrett-branded, Non-Fungible Tokens (NFTs). Purchasing the NFTs, through a license deal brokered by Brand Capital Marketing, allows enthusiasts to use them in games and other digital platforms.
"Barrett is one of the most aspirational firearm brands in the world and we are proud to lead with this iconic brand in our Digital Arms NFT ecosystem," said Chris Watkins, Digital Arms founder. "Not everyone can afford a Barrett firearm, but this is a unique and exciting opportunity for gun, hunting and gaming enthusiasts as well as digital currency collectors to digitally own a limited-edition collectible. This partnership with Barrett lays the foundation for more partnerships with firearm manufacturers/brands in our platform to transform and lead the firearm NFT marketplace."
NFTs are a unique piece of data, with blockchain storage and ownership verification. Although currently best known for providing possession of original digital artwork or photography, firearm NFTs take on a completely new perspective in the traditional gaming industry. Within the Digital Arms platform, users will be the sole verified owner of a digital licensed firearm. Investors and collectors can secure a limited-edition NFT designed from computer-aided-design, one with the potential to increase in value over time.
"We are looking forward to offering our brand enthusiasts as well as today's gamers and collectors the opportunity to own exact digital replicas of a variety of Barrett firearms, including the one-of-a-kind Barrett Model 82A1, which has served dedicated sportsmen and proven to improve our military readiness in every rugged environment around the globe," said Sam Shallenberger, Barrett president.
The Barrett .50 caliber Model 82A1 is the world's most recognizable semi-automatic long-range rifle, used by civilians, sport shooters, law enforcement agencies, the United States military and more than 70 State Department approved countries around the world. Along with its sibling the Barrett M107, the Model 82A1 is also the official rifle of the state of Tennessee.